Faculty Expertise
faculty recognition
UGA Peanut Team Visits Brazil
The UGA Peanut Team had a productive week in Brazil visiting multiple sectors of the peanut industry. The trip was held from 13 to 17 March and visit included two universities, UNOESTE in Presidente Prudente and UNESP in Jaboticabal, Beatrice Peanuts, Coplana, Colombo machinery industry, Agronomy Research Institute (IAC), and peanut growers.
Team members attending were Drs. Babu Srinivasan, Bob Kemerait, Cris Pilon (CRSS faculty), Glen Harris (CRSS faculty), Mark Abney, Scott Monfort (CRSS faculty), Scott Tubbs (CRSS faculty), and Tim Brenneman. The tour was planned by Dr. Cris Pilon along with Dr. Fabio Echer from UNOESTE and Dr. Rouverson Silva from UNESP. Drs. Echer and Silva have active collaborations with multiple UGA faculty members.
digital soil mapping
Levi leverages soil science to answer interdisciplinary questions
There's a world of information under your feet. Just ask UGA Assistant Professor Matt Levi, who maps and models soil data for use across disciplines, from precision agriculture to fire prediction research. A pedologist by trade, an earnest respect for soil and its critical functions underlies his interdisciplinary work in predictive GIS mapping.
career of service
Gaskin Recognized
Congratulations to Julia Gaskin (Crop and Soil Sciences Emeritus faculty) on receiving "The Workhorse" Lifetime/Career Achievement Award at the Southern Cover Crops Council Meeting held in Baton Rouge, Louisiana.
The goal of the Southern Cover Crops Council is to increase cover crop use through collaborative education and research across the Southern region.
During her career at UGA, Gaskin received the 2016 D.W. Brooks Award for Excellence in Extension.
---
Student Achievement

CRSS Globe Getter

As a CRSS Doctoral student. Kelvin Jimmy Awori's goal is to help improve food security in the midst of climate change.


Southern Cover Crops Council Award
Michaela Lubbers (MS student advised by Dr. Jenn Thompson) received first place in the student poster competition.
Lubbers' poster was titled "Exploring the Barriers and Benefits of Cover Crops among Northeast Commodity Croppers for Tailored Outreach and Communication."

Grad Student Uses Modeling to Quantify Flash Drought
Flash drought is the rapid onset or intensification of relatively short-term agricultural drought.
Learn how Crop and Soil Sciences Ph.D. student, Jasia Jannat (advisor: Dr. Vellidis), is quantifying its effects in the Southeast.

Undergrad Presents Research at ASA Meeting
Audrey Young, a fourth-year student majoring in Agriscience and Environmental Systems (AES), recently presented her undergraduate research project at the 2022 ASA, CSSA, SSSA International Annual Meeting in Baltimore.
Her research is on post-emergent herbicide use on carpetgrass. Audrey has been working with Dr. Gerald Henry.

All About the Pod Podcast
Crop and Soil Sciences graduate student Macie Wheeler recently received a "Communication of Research and Scholarship Grant". This funding has allowed Macie to start a info-packed peanut podcast!
All About the Pod, presented by the UGA Peanut Team, is a recurring podcast for peanut producers, industry partners, and anyone interested in learning about science-backed peanut production.
The goal of this podcast is to educate others about up-to-date problems our researchers see in the field. All About the Pod will feature extension specialists, research faculty, graduate students, extension agents, industry allies, and growers.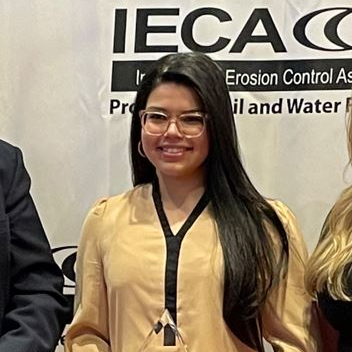 Tech Paper of the Year
Gleicy Cavalcante, a 2021 graduate with a Master's in Environmental Engineering, received the "Technical Paper of the Year" Award at the 2022 International Erosion Control Association (IECA) annual conference. Cavalcante, co-advised by Gary Hawkins (Crop and Soil Sciences), Bill Tollner (College of Engineering), and Jon Calabria (College of Environment + Design) graduated with a Master's Degree in Environmental Engineering.
Her project researched the removal efficiency of sediment and nutrients from highway runoff on an interstate in Atlanta GA using a bioretention basin. She is currently working with an Environmental Consulting firm in Tampa, FL.
The IECA Technical Paper of the Year is awarded to the technical paper from the IECA Annual Conference that receives the highest peer review score from the IECA Conference Review Team. The paper is judged on research, support of hypothesis, accurate and appropriate methods being used and identified, the collection of data and conclusion of research.
---
Contact Us
Main Office: 706-542-2461
Fax: 706-542-0914
Miller Plant Sciences Building
120 Carlton Street
Athens GA 30602