Throughout the years, many Crop and Soil Sciences faculty have been honored with the coveted D.W. Brooks Award. 
The D.W. Brooks Lecture Series and Faculty Awards for Excellence are named for a Georgian whose contributions to agriculture are respected worldwide. An alumnus of the University of Georgia College of Agricultural and Environmental Sciences, D.W. Brooks (BSA—Agronomy, 1922, MSA—Agronomy, 1924) devoted his career to improving lives through innovations in agriculture.
 

D.W. Brooks Awards - Crop and Soil Sciences Honorees

Excellence in Teaching

Excellence in Research

1998 - Nicholas Hill
1997 - Wayne Parrott
1995 - Joseph H. Bouton
1994 - H. Roger Boerma

Excellent in Extension

Excellence in Global Programs

1998 - Malcolm E. Sumner
1996 - David G. Cummins
---
Faculty Honors & Awards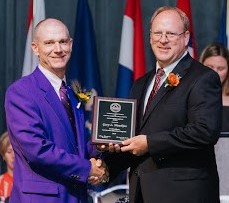 FACULTY IN THE NEWS
Gary Hawkins Honored at NACAA
Gary L. Hawkins received the Distinguished Service Award from the National Association of County Agriculture Agents during the 2019 Annual Meeting and Professional Improvement Conference held in Fort Wayne, Indiana. Gary L. Hawkins was one of several honorees who represent the top two percent of the membership selected by their peers and the Director of Extension. The following represents the awardee's recognition citation:
Dr. Hawkins has worked for the University of Georgia for 18 years and served as the Water Resources Specialist for 4 years. He provides statewide training and programs in the areas of pollution prevention, alternative energy, water quality, and water quantity. Dr. Hawkins has served as a GACAA committee chair and is currently GACAA Vice-President. He has also served as President of the GA ANREP, GA JCEP Chair, and on the Galaxy planning committee.