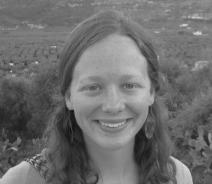 Name: Andie Bisceglia
Hometown: Durham, CT
Year in School: Graduate Student
Expected Graduation: Spring 2017
Degree Objective: Masters in Crop and Soil Science
---
In her own words ...
Research Summary: I am an interdisciplinary graduate student in both Education and Crop and Soil Science. I am conducting a qualitative research project studying how middle school students learn about food insecurity and sustainability at the Clarke Middle School garden. 
Why did you choose UGA Crop and Soil Sciences? Before coming to graduate school I had been working as an environmental educator, teaching K-12 students about ecology and sustainable agriculture. I was interested in learning more about the field of agriculture, specifically organic and other sustainable systems. And also how school gardens can be an avenue for K-12 students to learn about natural systems. 
After graduation, I plan to: Continue teaching K-12 students, either in a public school or alternative setting. 
University highlights, achievements and awards:
National Needs Fellowship