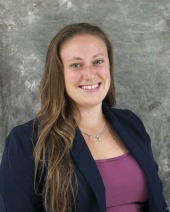 Name: Taylor Hendricks
Hometown: Havre de Grace, MD
Year in School: Graduate Student
Expected Graduation: May, 2019
Degree Objective: Ph.D.
---
In her own words ...
Research Summary: My research focuses on focusing on the viability of alfalfa-bermudagrass mixtures for improved yield, quality, and digestibility in baleage production and the ability of microbial inoculants to improve fermentation and forage quality in baleage production.
Why did you choose UGA? I chose UGA for my Master's because I was offered the opportunity to work on an interdisciplinary project that would combine soil science, water quality, and agricultural issues. I decided to continue my education at UGA for the opportunities I would have to work with top-notch faculty members on the development of research that could be directly applicable to producer needs.
Why did you choose Crop and Soil Sciences? I chose Crop and Soil Sciences for the opportunity to work with respected faculty members on forage production research that would compliment my interests in animal production.
My favorite things to do on campus are: ... experience the atmosphere of college football Saturdays in the SEC and an all-around beautiful campus atmosphere. 
After graduation, I plan to: ... work directly with producers through extension and outreach to translate research results into usable practices for efficient and profitable production systems and the promotion of sustainable agriculture. 
University highlights, achievements and awards:
E. Broadus Browne Research Award Departmental Nominee - Master's